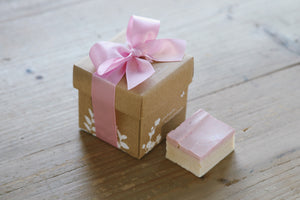 Yogurt Soap, Pink Roses, Mini
Regular price
Dhs. 27.00
Dhs. 0.00
Regardless of the packaging option chosen, products will be packed in minimal packaging for international orders
Description:
Extra gentle, it cleanses the skin without stripping it from it's natural moisture. %100 natural, does not contain additives or preservatives. Safe to use for the face & body
Customization:

For large orders, we will contact you once we receive the order to confirm your ribbon color of choice 
Skin Type & Uses: 
• For the face & body
• Extra gentle & suitable for very sensitive skin, like baby skin & mature skin. 
• A great option for skin that's easily irritated like ones that suffers from eczema & psoriasis, or ones with inflammation from burns 
Fragrance: 
• Lightly fragranced with powdery pink roses. 
• Our fragrances are formulated for sensitive skin & we use them scarcely.  
Size: 
• 40/50 grams 
How To Use: 
• Gently lather and message ur skin for not more than 1 minute  
• Always keep ur soap on a dry soap dish 
Ingredients: 
• Star ingredients specific to this soap: yogurt & pink roses fragrance. 
• Ingredients: yogurt, extra virgin olive oil, shea butter, fresh coconut milk, castor oil, coconut oil, himalayan sea salt, natural clays, fragrance