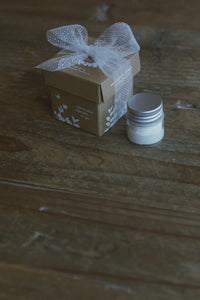 Refined Shea Butter, Unscented, 15 grams
Regular price
Dhs. 25.00
Dhs. 0.00
Description:
Luxury refined shea butter, unscented. %100 natural & raw, not mixed with any oils or other ingredients, does not contain additives or preservatives. Safe to use for the face, body & hair. This shea butter is raw, the texture is thick like butter.
Customization:

For large orders, we will contact you once we receive the order to confirm your ribbon color of choice 
Skin Types & Uses 
• Suitable for all skin types, for the face, body and the hair 
• The unscented option is suitable for babies under 2 years of age & mature skin. 

Fragrance: 
• Unscented
• Our shea butter does not have the strong natural shea butter scent. 
Size: 
• 15 grams 
How to use: 
• A Multi purpose natural deep moisturizer that is safe to be used on the face, body & hair. Mainly used to strengthen the skin & increase it's elasticity